Pool Table Sizing Guide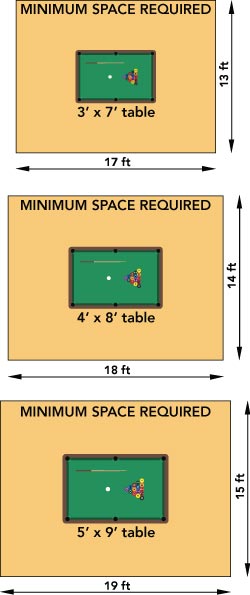 We often receive the very common question of "How much room do I need for a pool table".

A good general rule of thumb is that you will need five feet between the rail and the wall for proper stance and stroking of a full length pool cue. There are always exceptions to the rules, and sometimes a room might be almost perfect. For those situations, where you might have a tight corner, a column, or some other obstruction, there are shorter length cues that can help accommodate tighter spaces.

We made some simple diagrams to demonstrate the most common table sizes and the recommended minimum room requirements for each.

Table Sizes

Seven foot table - also known as a bar box table - is generally the smallest of the slate tables and most commonly found in bars or other recreational areas. They usually have a coin mechanism and are "pay for play" tables, however these can also offer free play, which is how they are commonly set up in home environments.
Eight foot table - the most common size for home tables by far. These are usually furniture style tables with elegant designs.
Nine foot table - generally found in pool rooms and and used for pool tournaments.

You may also download and print our "Game Room Sizing Guide". Simply cut the grid to the size of the room, along with your corresponding pool table, and plan accordingly. If you have more items in your room, such as a pool cue rack, chairs, or tables, print out multiple copies of the grid and cut sections based on the size of each item.

We also have a guide to help you determine how much room your pool table needs based on pool cue length.